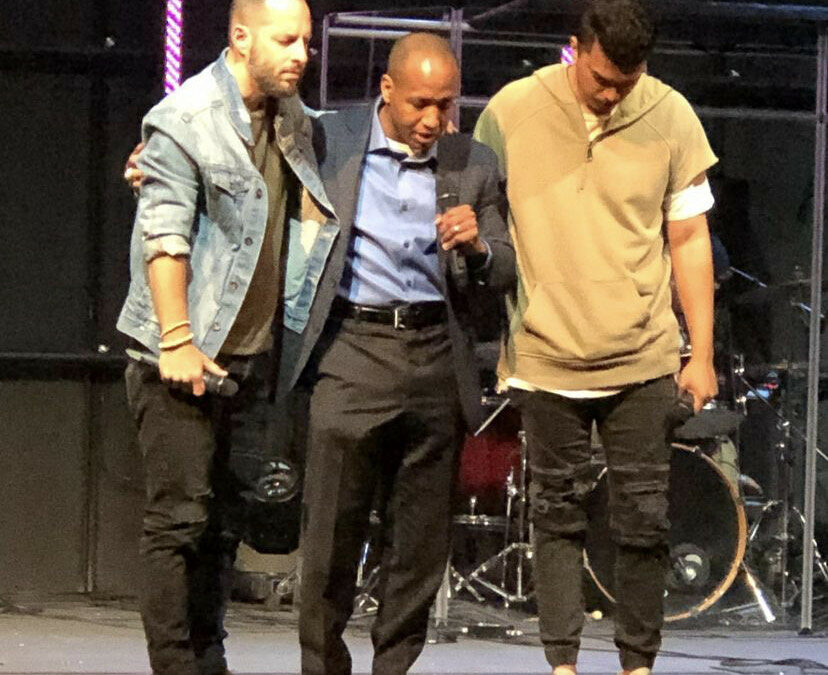 So we've been talking all about forgiveness (go back and read Forgiveness Part 1 if you haven't already). Let's dive back in and continue…
Once I claim Jesus' death and resurrection as my only hope for Salvation, I receive Christ's life: His past, present, future all become mine. When God sees me, He sees Jesus. I have nothing to prove to Him. I don't have to earn His approval. I have it. That's why Paul says in Galatians, "For freedom Christ has set us free; stand firm therefore, and do not submit again to a yoke of slavery…or Christ will be of no advantage to you."
So how does Christ become an "advantage" for us? He frees us up! We don't need to walk around tied up in knots by anger, bitterness, and hatred of ourselves or of others! We realize that Christ gave up His rights and laid down His life to redeem us. He nailed our offenses to His cross. And not only did He nail our offenses, He nailed the offenses of those who have hurt us to His cross. We have no right to refuse forgiveness to people God has already forgiven, whether or not they ask for it. Oof.
If I do not believe I am forgiven and loved by God, I will not be able to forgive and love other people. If I only have head knowledge of the forgiveness and grace (I know the verses) and don't actually believe and experience them (live them), then I am just as screwed (I sat and tried to think of another way to put that, but I couldn't. Sorry).
When I accepted Jesus as my Savior at four years old, I really didn't grasp His forgiveness and grace. I mean, c'mon…I was four and the worst thing I had done is lie about my ruffle underwear (my mom had this thing about me wearing ruffle underwear on Sundays and I HATED it). I knew I was going to Hell and instead wanted to spend eternity with Jesus (just a word here to all of my fundamental legalists: Those who say "If someone's main concern at his/her time of Salvation is just to escape Hell may not truly be saved", get over yourselves and read the Bible. Jesus spoke four times more about Hell then Heaven and so obviously wanted people to realize the severity of it in hopes that they would not want to go there. It is people like you who made me terrified for years that I may not be saved when I most certainly am. Thanks). Anyways… 🙂
While I am thankful that I accepted Jesus as my Savior at a young age, I had a head knowledge of God's grace, but not the experimental knowledge. I grew up thinking that I was "okay" because I had not committed any of the "really bad sins". However, when I got into college and my young adult years, I began to realize that when I failed, and failed miserably, I had a hard time accepting the fact that I truly was forgiven and already had God's favor and so didn't need to live defeated and/or in fear. But isn't that the Gospel? It wasn't until that first year of marriage when I had utterly destroyed my reputation and who I thought I was completely disintegrated that I realized I had nothing to offer Jesus for His forgiveness. I could only receive it. And it's that same forgiveness that I can extend to those who hurt me.
Chuck Swindoll says, "Truth be told, it's God's forgiveness of us that makes possible our forgiving others…It's important to understand that we can never forgive others, horizontally, if not for what Christ has already done for us, vertically. Not until we fully accept and appropriate God's infinite and complete forgiveness on our behalf can we carry out the tough assignment of forgiving others…To refuse to forgive is hypocritical. Because we have been the recipients of maximum mercy, who are we to suddenly demand justice from others? The compassion that God demonstrates on our behalf calls for us to do the same toward others. Anything less is downright hypocritical."
This is tough stuff. Please know, I am wrestling through this stuff (let's be honest, this crap) with you. It sucks. But, we have to get our hands dirty and "Get 'er done!" So, let's talk through some steps to take if we want to get down and dirty and forgive others. Once again, Swindoll gives us some guidance based on God's Word.
"Focus fully on God's forgiveness of you (Psalm 103; Psalm 116)."
Swindoll says, "The extent to which you can envision God's forgiveness of you, to that same measure you will be given the capacity to forgive others." If I am spending all of my energy praising God and basking in the freedom of His forgiveness and grace for me, I am not going to have any time and emotion left over to be bitter. You are going to get sick and tired of me saying this, but I don't care: You have to preach the Gospel to yourself! Forgiveness seems so unfair until you realize what God did for you through Christ was infinitely unfair.
"Deal directly and honestly with any resentment you currently hold against anyone." Oh no.
"That is one of the most regrettable mistakes a Christian can make. Limited forgiveness is like conditional love – a poor substitute for the genuine item. It's no forgiveness at all." Chuck went there. God takes my sin from me…I am not defined by it. How can I not do this for someone else or, more importantly, believe it for myself??? 
When you are dealing with forgiving someone else, you don't have to think about his/her offense and then pretend like it never happened. Nope. Name his/her offense. Realize this person stole something from you. Determine what that is (a childhood, marriage, job, relationship, memory, innocence, virginity, etc). Come on…go there. Now, brace yourself: Can he/she ever pay you back fully as though it never happened? Can they ever give you a proper explanation as to why they did what they did? Can they? You have to honestly answer these questions. Why? Because it ultimately is going to help you. You hang on to the pain because you think it is going to somehow justify what happened. And, you are going to make the other person pay by withholding the relationship. Or you are afraid if you let it all go completely, the other person is going to get away with whatever he/she did. But none of those thoughts are true. You can never be paid back and that person's suffering isn't going to do it for you. And you have no control over consequences or what happens to that person anyways. That doesn't mean you convince yourself that it never happened. No, it did. But you aren't going to hold it against the person anymore and make them pay for it because they never can and it will only torment you. Do you want to live tormented? I never said this was going to be easy. Christ's death on the cross certainly wasn't. 
Remember, forgiveness is always for you, not for the other person. Forgiveness allows us to heal and then to live in freedom. But it's a choice to really believe that the Gospel is true and then to live it. It takes courage. So, how brave are you?
Chip Ingram says Forgiveness is made up of three parts: Forgive, Forgiving, and Forgiven.
You make the initial decision to forgive. Then every time you get angry or bitter, you forgive again and again ("forgiving" is the "momentary forgiveness" we talked about before). Then, at some point down the road, you will realize that you have forgiven…that person's name gets brought up and you don't experience the torment anymore. Realize though, sometimes this take years and years.
I want to say one more thing before we end this series on forgiveness: I am not speaking here to abuse victims of any kind. You will need to work through forgiveness in therapy and counseling because you will need to be wise about setting up boundaries and protection. It is absolutely possible to heal from abuse, but you will need to walk through that abuse with a community.